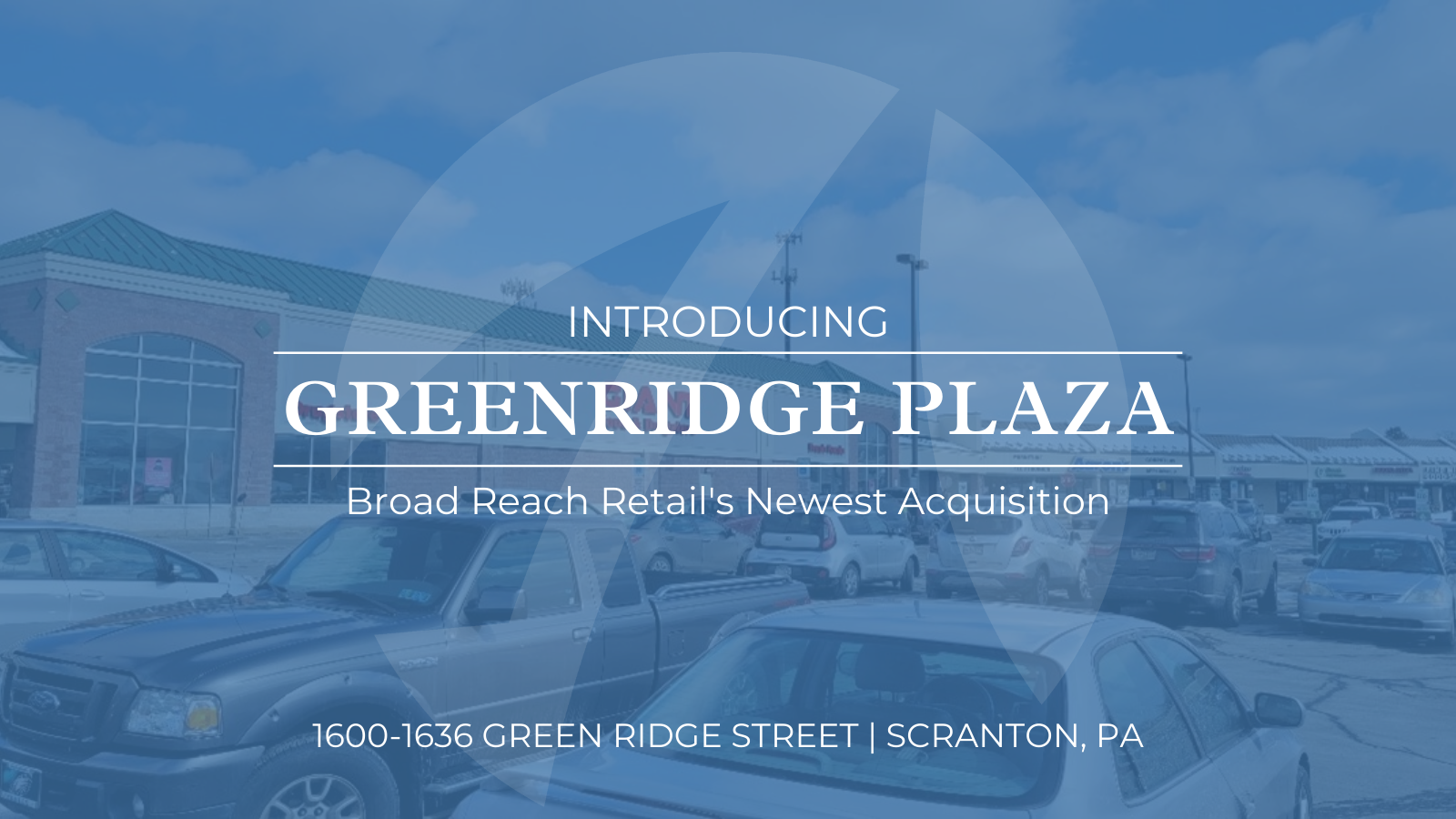 Broad Reach Retail Partners Completes Second Acquisition of Grocery-Anchored Shopping Center of the Year
Greenridge Plaza adds infill, high-volume Giant anchored center to the company's growing portfolio.
MILLERSVILLE, MARYLAND (April 27, 2022) – Broad Reach Retail Partners LLC, owner and operator of retail shopping centers, completed its second acquisition of 2022 with Greenridge Plaza located in Scranton, Pennsylvania.
Greenridge Plaza is a 191,755 sf community center anchored by high-volume Giant, Planet Fitness, and Dollar Tree. It is located in a very dense location, with approximately 19,000 residents within a one-mile radius.
"We are excited about Greenridge Plaza, the sales of the existing tenants speak volumes about this dynamic center. With our focused leasing approach, we look forward to installing new tenants that can meet the needs of the community and compliment the existing tenant mix."  Nate Tower, CEO of Broad Reach
This shopping center is currently 70.9% leased, with approximately 52,216 sf available. Our team has identified a few retail voids in this market that, if filled, will add immense value to the community. For more leasing information, please contact Gary Block, Vice President of Leasing, at 443.890.1538 or gblock@broadreachretail.com
This purchase is also the fourth acquisition under the Broad Reach Retail's Shopping Center Fund III, the company's latest investment vehicle that closed in March of 2021, and the acquisitions team continues to look for additional investments that will fit within this similar criteria.
As the portfolio continues to grow, the company is actively seeking to fill roles with individuals who are passionate and motivated to work in an energetic environment. If interested, please check out career opportunities here.
About Broad Reach Retail Partners
Founded in 2006, Broad Reach Retail Partners, LLC is committed to creating value for our Properties, Partners, and People. Broad Reach has owned, leased or managed 53 centers, representing 5 million square feet. For more information, visit www.BroadReachRetail.com.