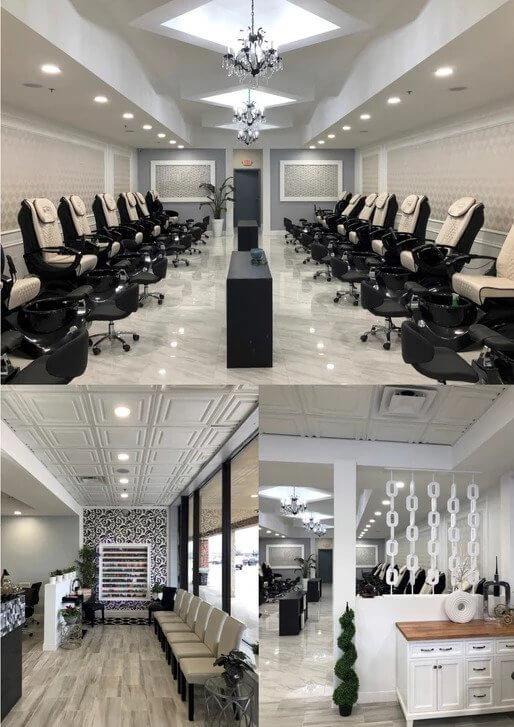 Broad Reach Retail Partners announces NAIL XPO expansion and remodel at Waynetowne Plaza in Huber Heights, OH. 
Broad Reach Retail Partners is pleased to announce the expansion and relocation of existing nail salon tenant at Waynetowne Plaza shopping center in Huber Heights, OH, NAIL XPO.
In 1997 NAIL XPO opened its initial salon in Waynetowne Plaza shopping center with 1,140 sf and a three-year term. They now occupy three times that space and have signed a 10-year extension through 2028.
"This 3,700 SF facility is an example of the new trend of luxurious spa-like salon designs, with clean and pristine décor and eye-catching focal points like NAIL XPO's drywall ceilings with recessed lighting and chandelier light fixtures. Salon owners are working hard to stand out," stated Mike Castellitto, VP/Partner of Broad Reach, who noted the salon's upscale installation took longer than a typical tenant improvement project due to its design. NAIL XPO installed 16 state-of-the-art pedicure chairs and anticipates over 500 visits per week to the salon, which prides itself on high quality nail services in a luxurious and relaxing environment. NAIL XPO benefits from Waynetowne Plaza's location in an area that is easily accessible, surrounded by high-density residential, and is well-lit and safe.
"Nail salon services are one of the most internet-resistant uses" states Nate Tower, Founding Partner and CEO of Broad Reach, adding "you can't get your nails done online." "Broad Reach is focused on finding the best tenant mix offering goods, services and experiences to the Huber Heights community. We are very pleased to have played a role in NAIL XPO's expansion and remodel at Waynetowne Plaza as part of our ongoing commitment to provide value to our properties, partners and people" said Tower.