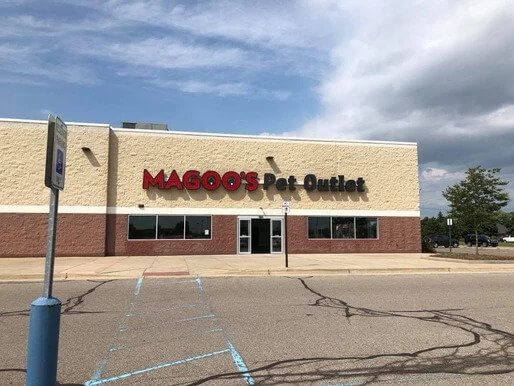 Stocked with everything on your favorite pet's Christmas list, MAGOO'S Pet Outlet at Shelby Corners shopping center in Utica, MI opened for business just before Thanksgiving. The three-month build out started in August, once the Utica Planning Commission approved the site plan for the store located next to existing tenants Dogtopia and Planet Fitness. This is the seventh MAGOO'S Pet Outlet location in Michigan.
"When we go into a new area, we go in wanting to not only service, but be a part of the community. We are a local Michigan company that supports Michigan local causes as well," said Jason Corbett, the owner of MAGOO'S Pet Outlet.
Broad Reach Director of Operations, Mike Castellitto, added that MAGOO'S 6,101 SF build-out incorporated interior and exterior changes to the site, including several openings on the south side of the building to allow for a large 12-foot-wide by 91-inch-high automatic sliding entrance door as well as 16-foot wide windows on both sides of the entrance door. "MAGOO'S has their tenant improvements down to a science at this point," stated Castellitto. "This is their seventh store, and it has been a pleasure to partner with them at our Shelby Corners location."
MAGOO's Pet Outlet is family owned and has been in operation for more than 40 years. MAGOO'S Utica Facebook Page highlights photos and videos of its daily pet customers inside the Shelby Corners store as well as sharing tips for owners, product information and product availability on their large inventory.