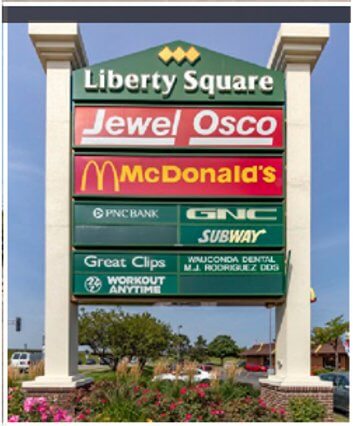 I'm writing with wonderful news: 2017 was a banner year for Broad Reach! Despite a challenging environment, we've grown and prospered. In fact, our niche — fixing broken shopping centers — is more relevant than ever.
There's no doubt that retail-based real estate is changing. It's becoming more focused on customer service and convenience, fashion is being replaced by wellness and entertainment, daily-needs providers are offering a more dynamic shopping experience.
So, where others see problems, we see opportunity! Given our decades of experience, we know that people will always need certain basic goods and services on a regular basis. And that's what we specialize in necessity retail. As we always say, "You can't get your hair cut online!"
Here's a brief overview of how we created value in 2017, along with a preview for 2018.
2017
Leasing. 2017 was our strongest year of leasing ever. We leased 102,676 square feet of new space, and increased the occupancy rate, among the shopping centers we've owned for more than a year, from 85% to 90%.
Fund I. We completed 3 capital transactions, returning 63% of the fund to investors. The Fund still owns 4 of the 6 centers the Fund purchased. Fund II is projected to have another double-digit, cash-on-cash return.
Fund II. We bought two centers: Wood River, located outside of St. Louis, and Liberty Square, located outside of Chicago. As a result, The Fund now owns five centers, with another one under contract (outside of Washington, DC).
2018
Brokerage Division. Over the years, many tenants and landlords have asked for our help in navigating retail-based real estate. So, on January 1st of this year, we launched a brokerage division. This unit will initially focus on the Mid-Atlantic market.
Acquisitions. Now that Fund II has closed, we're actively scouting out undervalued opportunities. Our goal: to buy 3 to 5 centers in 2018 — but only those that are anchored by a grocery store and which have major upsides.
Leasing. Our leasing goals for 2018 are simple: we want to rent out another 100,000 square feet of new space and retain 95% of existing tenant mix.
As you can tell, I'm one of those guys who lives and breathes his profession. And while I'm obviously biased, I'm nonetheless tremendously optimistic about the future of both retail-based real estate and Broad Reach. If this interests you — or you have any suggestions — let's chat!
— Nate Tower, CEO