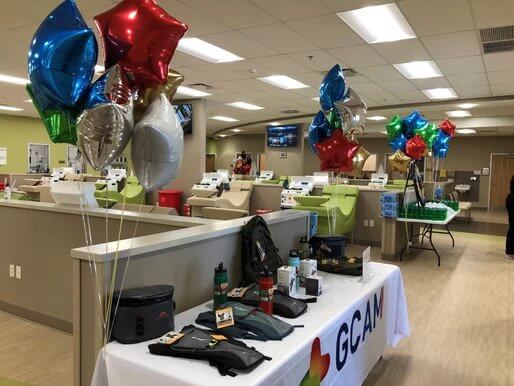 Broad Reach Retail Partners is pleased to announce the grand opening of our newest tenant at East Thompson shopping center in Indianapolis, IN: GCAM Plasma, a blood plasma donation facility.
GCAM, Inc. (GCAM) is an affiliate company of GC Pharma, which became the sixth company in the world to establish a plasma fractionation plant in 1971. GCAM is dedicated and specialized in the plasma industry, and it has multiple sites located throughout the US.
"The 12,000 SF facility is a perfect example of successfully integrating a medical use and retail components," stated Mike Castellitto, VP/Partner of Broad Reach, who noted the installation of the new tenant went very smoothly. GCAM Plasma anticipates 1,500 – 2,000 visits per week to the center, which prides itself in collecting quality plasma in a pleasant and relaxing environment. According to their website, "GCAM facilities are licensed by the Food and Drug Administration, and the centers are routinely inspected by Federal and State agencies."
"Blood plasma is vital to manufacturing life-saving products. Donors are making a important commitment to their families and communities – saving lives through the process of donating plasma" states the website. "Broad Reach is delighted to welcome such an important health care facility to East Thompson Center and the Indianapolis community," said Castellitto.