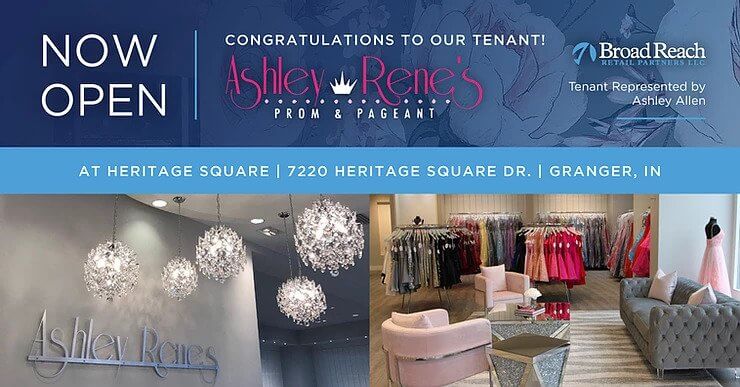 Broad Reach Retail Partners is pleased to announce the grand opening of our new tenant, Ashley Rene's Prom & Pageant in Heritage Square shopping center located in Granger, IN. The business is comprised of two brick and mortar suites with a combined square footage of over 7,000 SF and has an initial 10- year term. Ashley Allen represented Heritage Square and Bradley Companies aided Ashley Rene's Prom & Pageant.
Ashley Rene's Prom & Pageant is recognized by The Pageant Planet as the #1 Pageant store in the country for 2017, and it has been servicing pageant clients nation-wide for over a decade. Their second Heritage Square suite, Ashley Rene's Couture, specializes in high-end couture gowns. Clients can create the dress of their dreams with the help of Ashley Rene's professionally trained staff who can take a client's vision and bring a custom gown to life.
Owner Ashley Rene Swathwood says she is excited to offer the Michiana area a bigger and better experience with Ashley Rene's. "This move to an outdoor, high-end shopping area has been my ultimate dream," Swathwood said. "With two storefronts, we'll be able to offer twice as many dressing rooms, a wider selection of designers and price points along with a designated space for custom and couture lines."
Swathwood said that with the move, Ashley Rene's will be hiring twice as many part-time and full-time employees and will be providing internships for young people in the area who are interested in a career in fashion, business, or entrepreneurship.