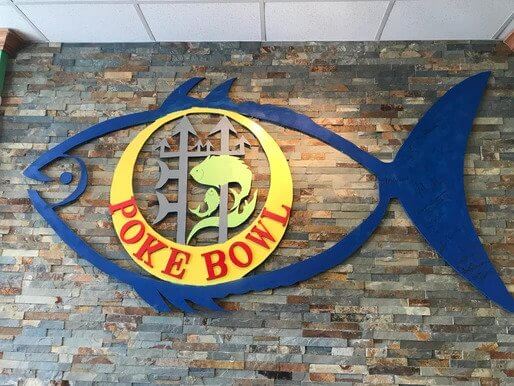 Broad Reach Retail Partners is pleased to announce the grand opening of our Brokerage client POKE' BOWL at the historic Equitable Building located at 10 N. Calvert Street in Baltimore, MD. The 1,661 SF ground floor space has an initial 10-year term. Collin Christian represented the client, and JK Equities, LLC is the landlord.
POKE' BOWL is a modern take on the world-renowned "Poke", a freshly diced fish infused with traditional Japanese and Hawaiian flavors, served in a delicious burrito or poke bowl. POKE' BOWL currently has locations in Cockeysville, Lutherville, Bel Air and Baltimore, MD.
POKE' BOWL is seeking storefront opportunities of 1,500 – 3,000 SF in the Annapolis, Baltimore, Columbia, Ellicott City, Frederick, Baltimore City areas of Maryland. Kiosks will be considered. Venting is required. End caps with high foot traffic and vehicle counts that are in close proximity to colleges and major hospitals are preferred.
"We are delighted to partner with the owners of POKE BOWL. This is the fourth Poke Bowl lease that we've had the pleasure to represent," stated Mark Mueller, President of Broad Reach Brokerage Services. "At Broad Reach, we specialize not only in finding the perfect site, but also the optimization of a Tenant's strengths."
For more information on Broad Reach Retail Partner's Tenant Representation services please click here.