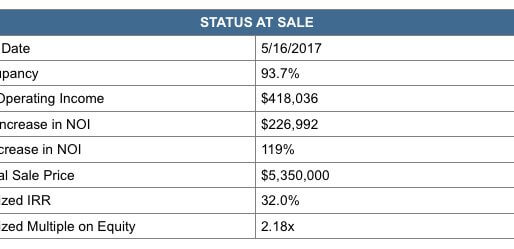 We are pleased to share with you the most recent example of how Broad Reach Retail Partners creates value: the Callahan Plaza shopping center. Broad Reach Retail Partners Shopping Center Fund I purchased Callahan Plaza for $2,300,000 in the fall of 2013. At the time of acquisition the center was 75% occupied and suffered from significant deferred maintenance. Through the efforts of the Broad Reach Retail Partners focused leasing and management teams, the following value-creation goals were achieved:
WINN DIXIE – extended their lease by 10 years and increased rent by $3.40/SF which is a 111% increase over what they were previously paying.
LEASE UP – completed three new leases representing 20,424 or 89% of all the vacancy within the center at the time of acquisition.
RENOVATIONS – including façade, parking lot, HVAC, lighting and section of roof for under $1 million in total costs. INCREASE NOI – from $191,044 at acquisition to $418,036 upon sale
SALE – center was sold in May of 2017 for $5,350,000 INVESTOR RETURNS
32.00% IRR

2.18x multiple on invested capital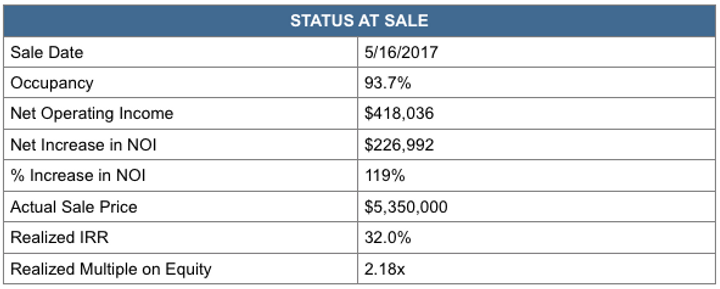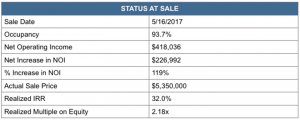 Callahan shopping center represents just the latest example of how Broad Reach Retail Partners creates Value for our Partners.
If you have an interest in achieving this type of return, there is still the opportunity to participate in Fund II. Please contact us for more information.
FUND II OVERVIEW
Focused exclusively on Value-Add, Necessity-Anchored Shopping Centers

Great combination of positive cash flow investments with upside potential

High Yield with Quarterly distributions
Thanks again for your interest, and please let me know if you have any questions. Nate Tower