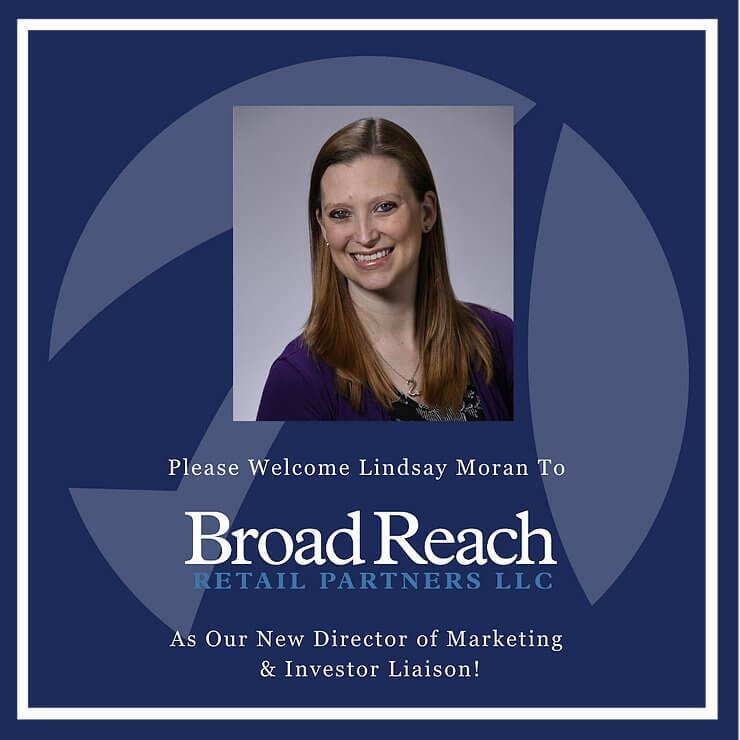 Broad Reach Retail Partners, LLC is pleased to announce that Lindsay Moran has joined the team as our new Director of Marketing and Investor Liaison.
Lindsay has over 10 years of experience as a marketing and communications professional. Spending much of her career with Merritt Companies, she possesses a demonstrated history of working in the commercial real estate and construction industries.
As the Director of Marketing & Investor Liaison at Broad Reach, Lindsay will be responsible for developing and managing the company's overall marketing strategy, including corporate branding and messaging. She will also be heavily involved in investor communications, tenant relations, and employee engagement.
Lindsay holds a bachelor's degree in Communications with a concentration in Public Relations from the University of Maryland, College Park.
To learn more about Lindsay and connect with her, please click here.
Broad Reach Retail Partners, LLC is a privately held, fully integrated owner and operator of shopping centers. Our mission is to create value for our partners, properties and people. We do this by maximizing the full potential of underutilized shopping centers through focused leasing, disciplined redevelopment, and meticulous management.