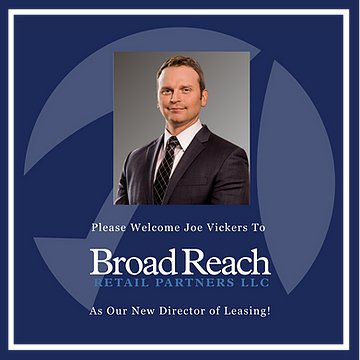 Broad Reach Retail Partners, LLC is pleased to announce that Joe Vickers has joined the team as our new Director of Leasing!
Joe has over 12 years of experience in real estate with 8 years in retail leasing and commercial development. As Director of Leasing, Joe is responsible for leasing Broad Reach Retail's owned and managed properties throughout the Mid-West.
Joe holds a Bachelor of Arts Degree in Political Science from Auburn University, as well as a Master of Business Administration from the University of Georgia. He originally hails from New Orleans and currently lives in Atlanta with his wife, Erin, and yellow lab, Brees. They enjoy traveling the world and drinking its wine.
To learn more about Joe and connect with him, please click here.
Broad Reach Retail Partners, LLC is a privately held, fully integrated owner and operator of shopping centers. Our mission is to create value for our partners, properties and people. We do this by maximizing the full potential of underutilized shopping centers through focused leasing, disciplined redevelopment, and meticulous management.