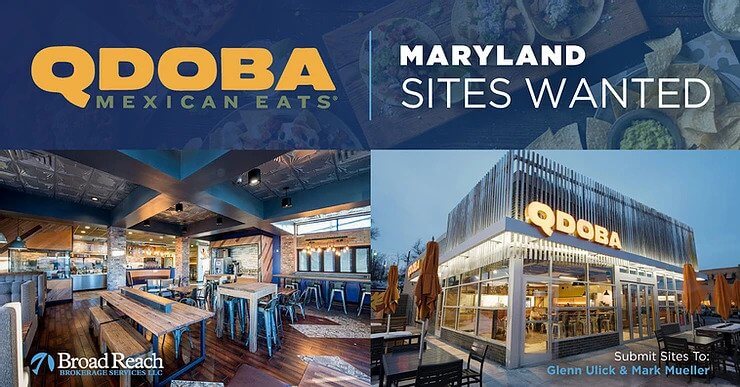 QDOBA Mexican Eats, formerly known as Qdoba, was recently purchased by Apollo Global Management and is now set to increase their presence in the greater Baltimore metro. Founded in 1995 in Denver, CO, QDOBA Mexican Eats is known for their innovative flavors and bold, distinctive store designs. QDOBA currently has a number of successful restaurants in the Baltimore metro and sees this as one of several growth markets.
Broad Reach Brokerage services is searching for highly visible locations in the Baltimore Metro area. Ideal size is 2,200 – 2,700 sf with outdoor seating. No drive-thru is required.
Glenn Ulick and Mark Mueller represent QDOBA in this market and will be touring shortly.
According to the company's website, while the company's footprint has grown significantly in the last two decades, "QDOBA has always stayed true to its brand promise: bringing flavor to people's lives. The QDOBA experience comes to life by ensuring every burrito, taco salad, nachos, burrito bowl and quesadilla is made fresh and full of craveable flavor."
"We are delighted to partner with QDOBA. We are excited to work with a great brand and their new ownership as they continue to expand.", stated Glenn Ulick. Mark Mueller, President of Broad Reach Brokerage Services, added "we believe strongly in the brand and in the Baltimore Metro market. Since founding our brokerage division a year ago, we have focused on expanding our relationships and getting results for our clients and we are proud to add QDOBA to that mix."
For more information on Broad Reach Retail Partner's Tenant Representation services click here.