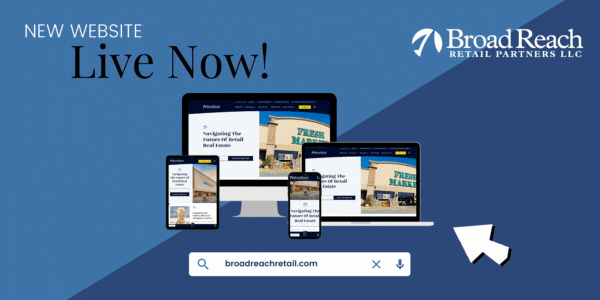 Broad Reach Retail Partners, LLC, a value-add owner and operator of retail shopping centers, is proud to announce the launch of its newly designed website www.broadreachretail.com. The new website features a modern and responsive design, improved functionality, and additional resources for all stakeholders.
Broad Reach Retail's new site seeks to focus on continuing the company's goal of creating value for its partners, properties and people with added resources, various avenues to get in touch, and more about who Broad Reach is and the services the company offers.
"We are excited to debut our new company website to our tenants, to our investors, and to those seeking our services," said Nate Tower, Broad Reach Retail's CEO. "This website redesign not only allows us to share more about who we are, but now we can really showcase our properties, highlight our success stories, including those from our tenants, and offer additional resources."
Broad Reach collaborated with WebFX, a tech-enabled digital marketing solutions provider based in Harrisburg, PA, to redesign and update the functionality of www.broadreachretail.com. Moving forward, Broad Reach and WebFX will continue to partner on digital marketing strategies to increase visibility and conversions and to improve and track ROI on these efforts.
View the Transformation! Here are the "before" photos:
| | |
| --- | --- |
| | |
| | Before: Broad Reach Retail Careers |
"Beyond its refreshing design and eye-catching features, our new site improves visitor experience, captures our company's story and culture, and gives us a stronger foundation to work from," said Lindsay Moran, Broad Reach Retail's Director of Marketing. "We can now truly capitalize on our on-going SEO strategy, explore additional digital advertising avenues, and serve our stakeholders in a more efficient and effective capacity."
Broad Reach Retail's new site is poised to assist in the company's leasing and business development efforts. "Your website is the one sales engine that works for you twenty-four hours, seven days a week," continued Moran.
The site will be updated regularly with company and tenant news, tips for tenants, vacancy information, case studies, tenant resources, and more! Visitors are encouraged to explore the website at www.broadreachretail.com.
###
About Broad Reach Retail Partners
Founded in 2006, Broad Reach Retail Partners, LLC is a privately held, fully integrated, owner and operator of shopping centers. Since its beginning, Broad Reach has owned, leased, or managed 48 shopping centers, representing 4.7 million square feet. Our mission is to create value for our partners, properties, and people. We do this by maximizing the full potential of underutilized shopping centers through disciplined buying, focused leasing, and meticulous management. For more information, visit www.BroadReachRetail.com.