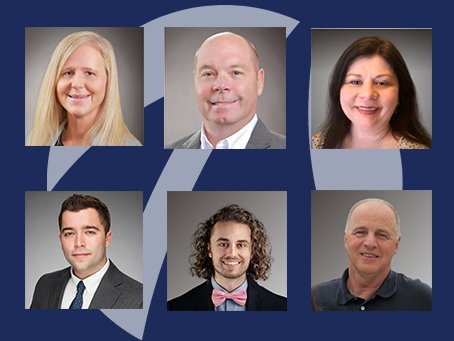 Broad Reach Retail Partners has witnessed positive momentum over the last six months from the acquisition of Warsaw Village and Avent Ferry shopping centers, to several internal team member promotions, and a few new additions to the company as well.
Our property management team promoted Lisa Haney, CPM® to Director of Property Management, and saw the addition of Steve Ferciot as our new Property Manager.
Lisa is approaching her two-year anniversary with Broad Reach and is excited to continue to grow with a team of highly skilled professionals who strive to make a difference in the retail real estate landscape.
"I am very excited for the professional challenges and personal growth that this position will offer," said Lisa. "The addition of Steve is only going to further enhance the level of service and care we provide for the properties we manage."
Steve Ferciot came onboard with Broad Reach in 2019 as an administrative assistant, but quickly became a utility player on the team, jumping in to help with accounting needs as well. From there, Steve started diving into property management and officially joined Lisa's team last year. By the end of 2020 it was clear Steve was needed permanently as a property manager. "Steve has an outstanding work ethic and is great with our tenants and vendors," continued Lisa Haney. "I'm excited to watch him grow in his new role."
In leasing, Kim Todd was promoted from Commercial Leasing Coordinator to Leasing Manager. Kim, who has over 20 years of experience in the commercial real estate industry, has made a huge impact at Broad Reach, hitting her first-year anniversary with the company earlier this month.
"Kim was hired a little over a year ago to support the leasing team without having shoes to fill, but rather to create her own path," said Ashley Allen, Partner & Vice President of Leasing. "She has consistently shown her ability to keep everyone moving in a positive and productive direction, all while learning and growing her role. Therefore, promoting her to the title of Leasing Manager only seemed fitting for the critical glue she provides in keeping us all together!"
"Broad Reach has given me the opportunity to grow into my new role as Leasing Manager by valuing my work ethic and experience," said Kim. "It's a pleasure to be part of such a supportive team and a 'yes' culture! I am looking forward to continuing to learn more from our amazing team and soaring in my new role here for years to come."
New to the Broad Reach crew is Matt Perlmutter, who joins the team as an Acquisitions Associate. Matt has previous experience in real estate analysis and investment sales. Prior to joining Broad Reach, he worked at Newmark and was responsible for underwriting, due diligence, and market research. Matt holds a Bachelor of Arts in Economics from the University of Maryland, College Park and enjoys traveling, as well as playing golf and basketball.
Ryan Jones has also joined the team recently as an Accounting Associate. Ryan was born and raised in Baltimore and comes to Broad Reach with previous experience as a construction accountant. Outside of work he enjoys exploring the city with his wife and volunteering in the Harwood community. Ryan is also a classically trained tenor and can play seven different instruments.
Broad Reach Retail's Brokerage division grew as well with the addition of Robert Hawbaker. Robert is an experienced commercial broker and construction manager with over 30 years in the industry. That experience has developed during various types of economic conditions and is diverse in scope, ranging from implementing and managing a 2500-acre master planned community, leasing, and tenant fit-out of retail and office projects, to new home construction. In his spare time, Robert enjoys competing in bass fishing tournaments.
Mark Mueller, President of the Brokerage division, stated, "Robert brings an added dimension to Broad Reach with regard to land development. He has immediately had an impact in assisting some of our preferred developers for a rapidly growing national retailer we represent. We are thrilled to have Robert on the team!"
Broad Reach Retail Partners is still growing! We are always looking for high-quality individuals who want to work in a fast-paced, growth-oriented real estate investment company. If you are ready to be part of something special and join our crew, then check out our current openings online.