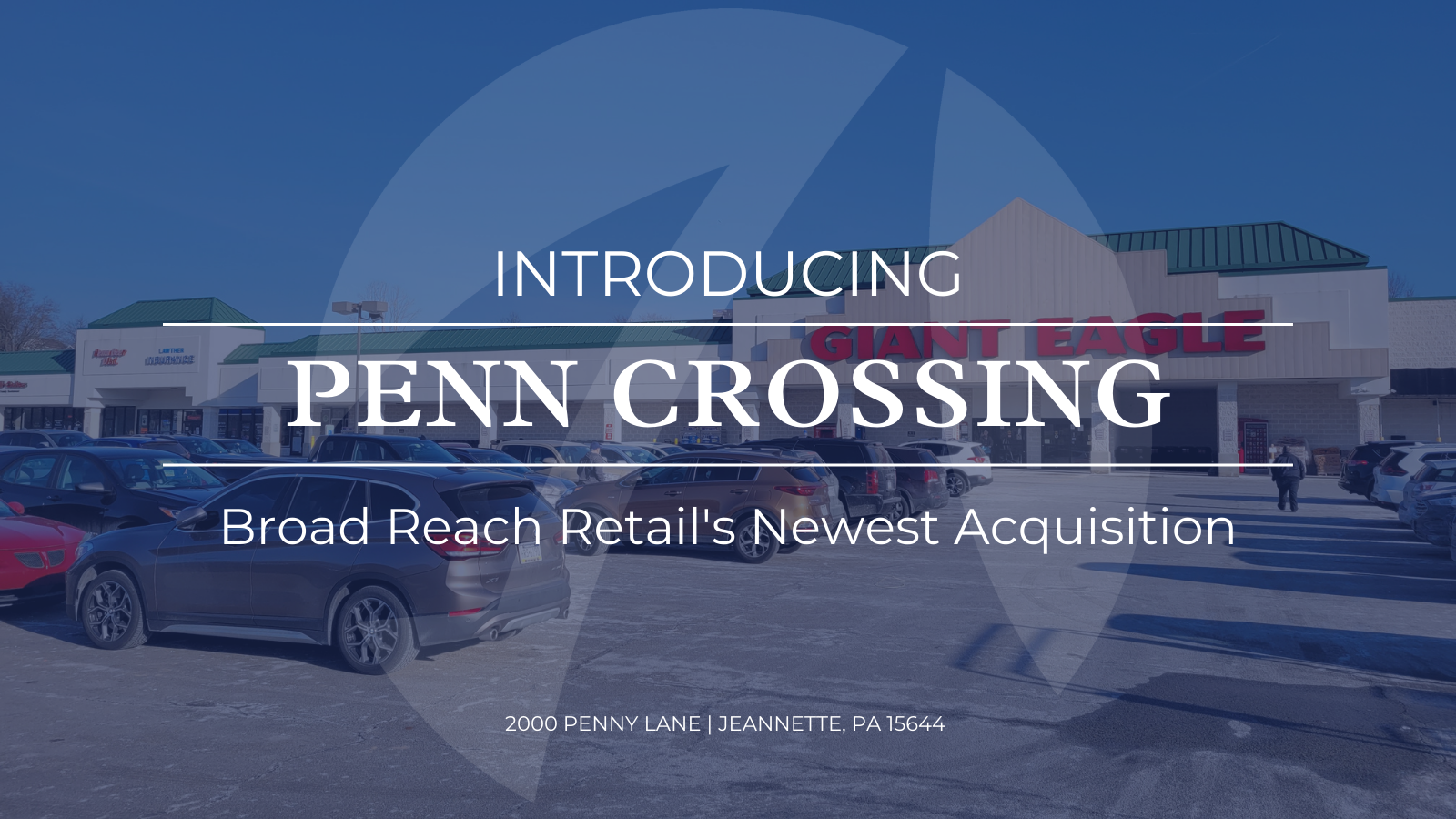 Penn Crossing Shopping Center adds unique opportunity to Broad Reach's growing portfolio with a limited competition center.
MILLERSVILLE, MARYLAND (August 31, 2022) – Broad Reach Retail Partners LLC, owner and operator of retail shopping centers, completed its third acquisition of 2022 with Penn Crossing Shopping Center in Jeanette, PA. This is also the second acquisition to take place in Pennsylvania in 2022, as Broad Reach Retail continues to expand in the Mid-Atlantic region.
Penn Crossing Shopping Center is a 107,339 SF center anchored by a dominant Giant Eagle, which is the only grocery store within a 3-mile radius. Located just 25 miles east of downtown Pittsburgh, Penn Crossing serves a community of approximately 70,000 people within a 5-mile radius. The strong tenant mix is comprised of essential necessity-based retailers, which adds value to the surrounding area the center serves.
"Penn Crossing is an excellent shopping center that exemplifies our focus of acquiring grocery-anchored investments with true value-add potential. As owners, we value the tremendous topographical challenges to developing new retail in the area, thereby providing high barriers to entry for new competition. As the only major shopping center in the submarket, Penn Crossing has a near monopoly on an affluent customer base. In fact, average household incomes surpass $107,000 within three miles of the property. We are proud to be the new owners of Penn Crossing and look forward to creating value for our Partners, Properties and the People our shopping centers serve." – Nate McKay, Acquisitions Officer.
Penn Crossing is currently 87% leased, with approximately 10,856 sf available. Our team has identified a few retail voids for this market, specifically within health and wellness space, restaurants, and auto support. Our team believes this will add immense value to the community. For more leasing information, please contact Gary Block, Vice President of Leasing, at 443.890.1538 or gblock@broadreachretail.com
This purchase is also the fifth acquisition under the Broad Reach Retail's Shopping Center Fund III, the company's latest investment vehicle that closed in March of 2021, and the acquisitions team continues to look for additional investments that will fit within this similar criteria.
The company is actively seeking to fill roles with individuals who are passionate and motivated to work in an energetic environment. Currently, we are looking for professionals to join our leasing team. If interested, please check out career opportunities here.
About Broad Reach Retail Partners
In 2006, Broad Reach Retail Partners, LLC was founded on the principle that every community needs a marketplace that provides essential goods and services. As a fully integrated real estate company, Broad Reach concentrates its efforts on buying and/or developing, managing and the leasing of value-add shopping centers. Through a disciplined buying and focused leasing and management approach, BRRP creates value for its Properties, Partners, and People. Overall, the company has owned, leased or managed 54 centers, representing 5.4 million square feet. For more information, visit www.BroadReachRetail.com.