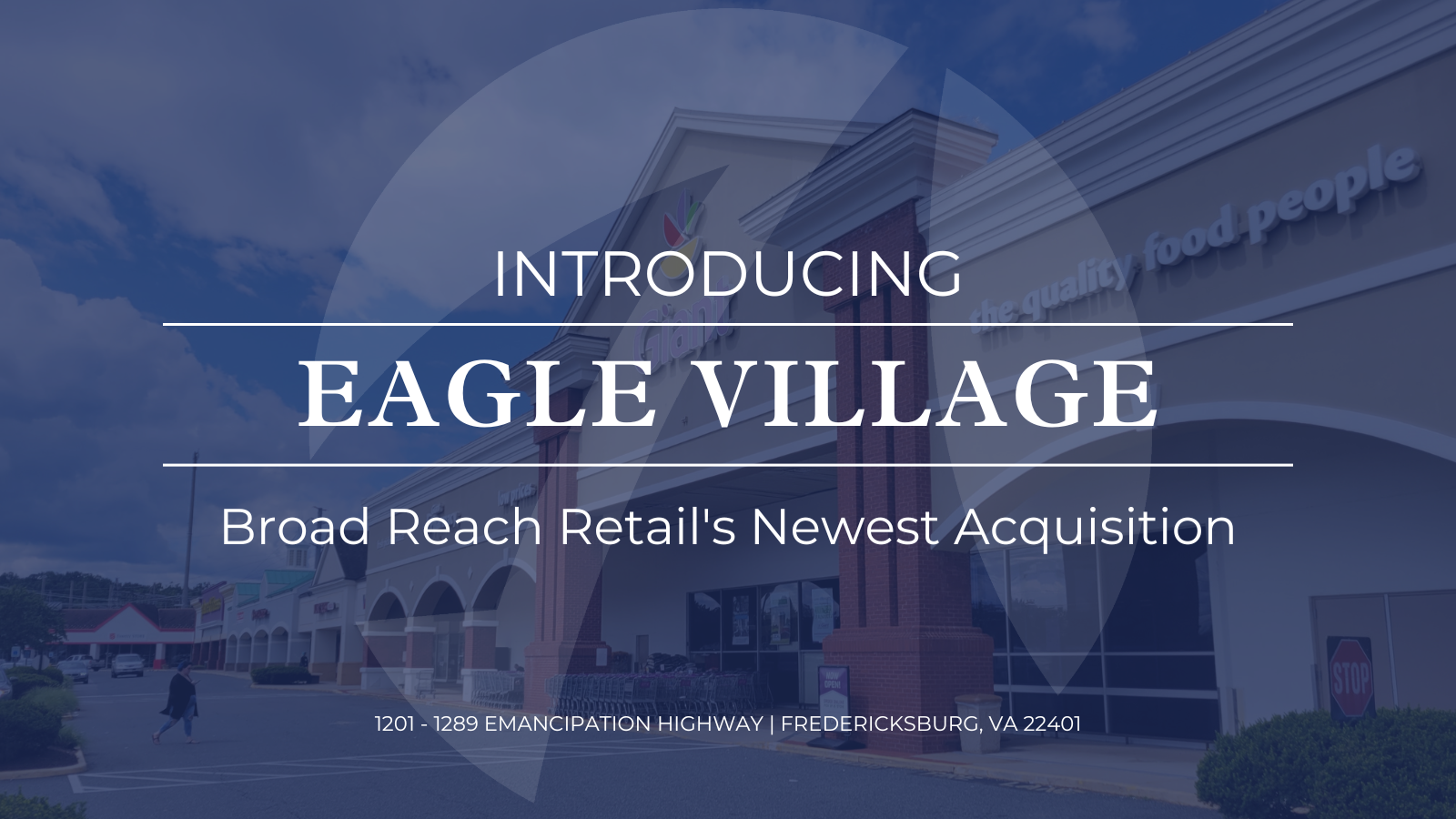 Positioned at the entrance to University of Mary Washington, Eagle Village is a fantastic value-add center positioned for success.
MILLERSVILLE, MARYLAND (December 2, 2022) – Broad Reach Retail Partners LLC, owner and operator of retail shopping centers, is thrilled to announce its most recent acquisition of Eagle Village. This shopping center, located in the Washington, D.C. MSA, is a strong addition to the company's growing portfolio in the Mid-Atlantic.
Eagle Village is a 127,778 SF center anchored by a high-volume Giant, which has been a staple at the center since 1963. The property's key location is in close proximity to multiple demand drivers. It is directly across from the main campus entrance to the University of Mary Washington, home to more than 4,000 undergraduate students. The shopping center is also located in front of the Mary Washington Hospital, which as more than 2,000 employees and 571 beds for patients. Positioned between these two drivers, Eagle Village benefits from being the only major shopping center for this community.
"We are excited to add Eagle Village into the portfolio, we believe in the center and dominate retail location.  We are also please to have closed on this transaction in this challenging time, it speaks volume about our team.  We are actively seeing additional centers to purchase so that we can close out fund III and start deploying fund IV." – Nate Tower, Founder, President and CEO.
At 87.9% occupied, Eagle Village has approximately 15,400 sf of leasable spaces available including a 10,000-sf junior anchor. Our team has identified a few retail voids for this market, specifically within home furnishings, medical uses, restaurants, financial services, and auto support. The goal is to continue to add value to this property and the community it serves. For more leasing information, please contact Gary Block, Vice President of Leasing, at 443.890.1538 or gblock@broadreachretail.com.
This purchase is the sixth acquisition under the Broad Reach Retail's Shopping Center Fund III, the company's latest investment vehicle that closed in March of 2021. Broad Reach is preparing to launch a new fund in 2023 and our team is actively seeking new investors. If interested in learning more, please visit the Invest with Us page.
About Broad Reach Retail Partners
In 2006, Broad Reach Retail Partners, LLC was founded on the principle that every community needs a marketplace that provides essential goods and services. As a fully integrated real estate company, Broad Reach concentrates its efforts on buying and/or developing, managing and the leasing of value-add shopping centers. Through a disciplined buying and focused leasing and management approach, BRRP creates value for its Properties, Partners, and People. Overall, the company has owned, leased or managed 55 centers, representing 5.4 million square feet. For more information, visit www.BroadReachRetail.com.