Tips for Tenants: Put A Little Spring in Your Step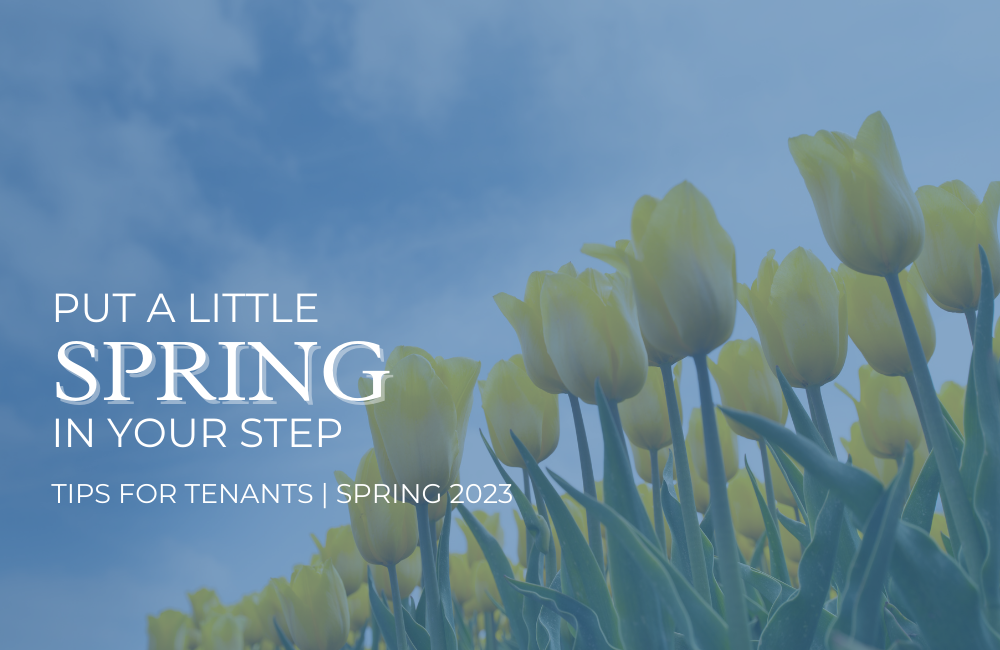 It's officially spring!
You know what that means! Time for the 2023 spring edition of Tips for Tenants. Keep reading to read some great tips for how to get ready for the warmer weather.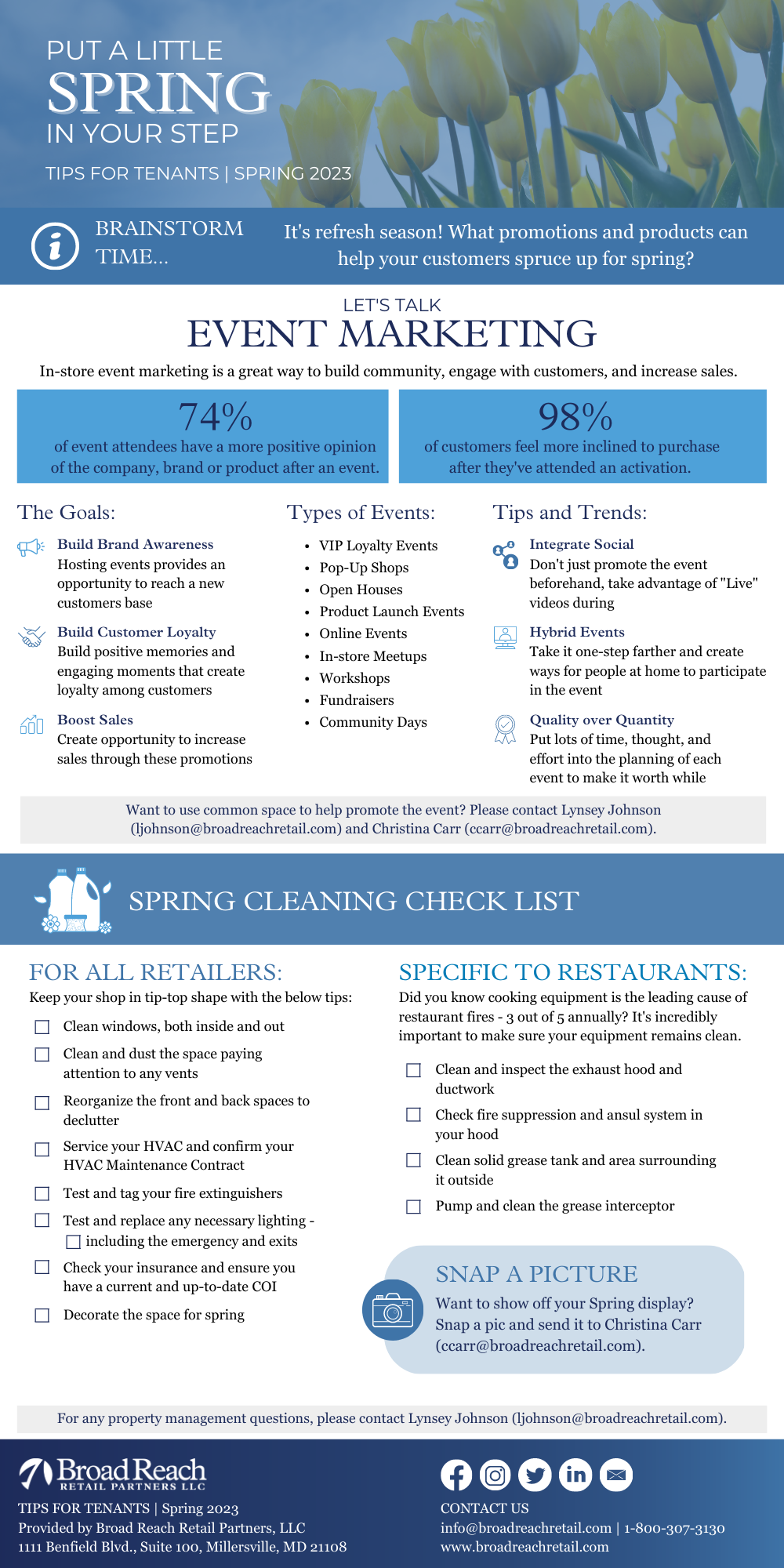 Bring in New Customers with Event Marketing
In store event marketing is a fantastic way to a build community, engage with your customers, and increase sales. Research has shown that 74% of event attendees have a more positive opinion of the company, brand or product after an event. Additionally, 98% of customers are more inclined to make a purchase after they've had a positive experience attending an activation.
So let's dig a little deeper.
Goals and Benefits of Events
There are three main goals when hosting an event:
Build More Brand Awareness: Hosting events provides an opportunity to reach a new customer base for your store.
Build Customer Loyalty: By hosting events, you have the opportunity to build positive memories and engaging moments that create loyalty among your customers.
Boost Sales: Create opportunities to increase sales through various promotions and highlighting new products.
Types of Events:
There are many different types of events that you could choose to host in your store. Here are a few ideas:
VIP Loyalty Events
Pop-up Shops
Open Houses
Product Launch Events
Online Events
In-store Meetings
Workshops
Fundraisers
Community Days
Tips and Trends:
If you're ready to get started, here are a few tips to keep in mind while planning your next events:
Integrate Social Media: Once you plan an event, it's important to start marketing. Social media is a fantastic tool to market and advertise your event. It should be used to market beforehand; however, you can also utilize it during your events. Highlight the event in the moment by going Live on Facebook and Instagram. By going Live, all your followers will receive a notification, and will see the event take place.
Hybrid Events: Take your social integration a step further and use the internet to create virtual event moments for your customers. For example, highlight products online and offer promo codes if customers purchase them online during the event times.
Quality over Quantity: There's something to be said about creating a strong and interactive event. It takes a lot of time, thought, and effort that requires a lot of planning. Because it can take a lot of time to plan these events, it's more valuable to create one quality event over ten little events.

Spring Cleaning Check List
In this edition of Tips for Tenants, we've created a helpful checklist to get you started on your spring cleaning. Please review the below image for some places that may need some little extra attention.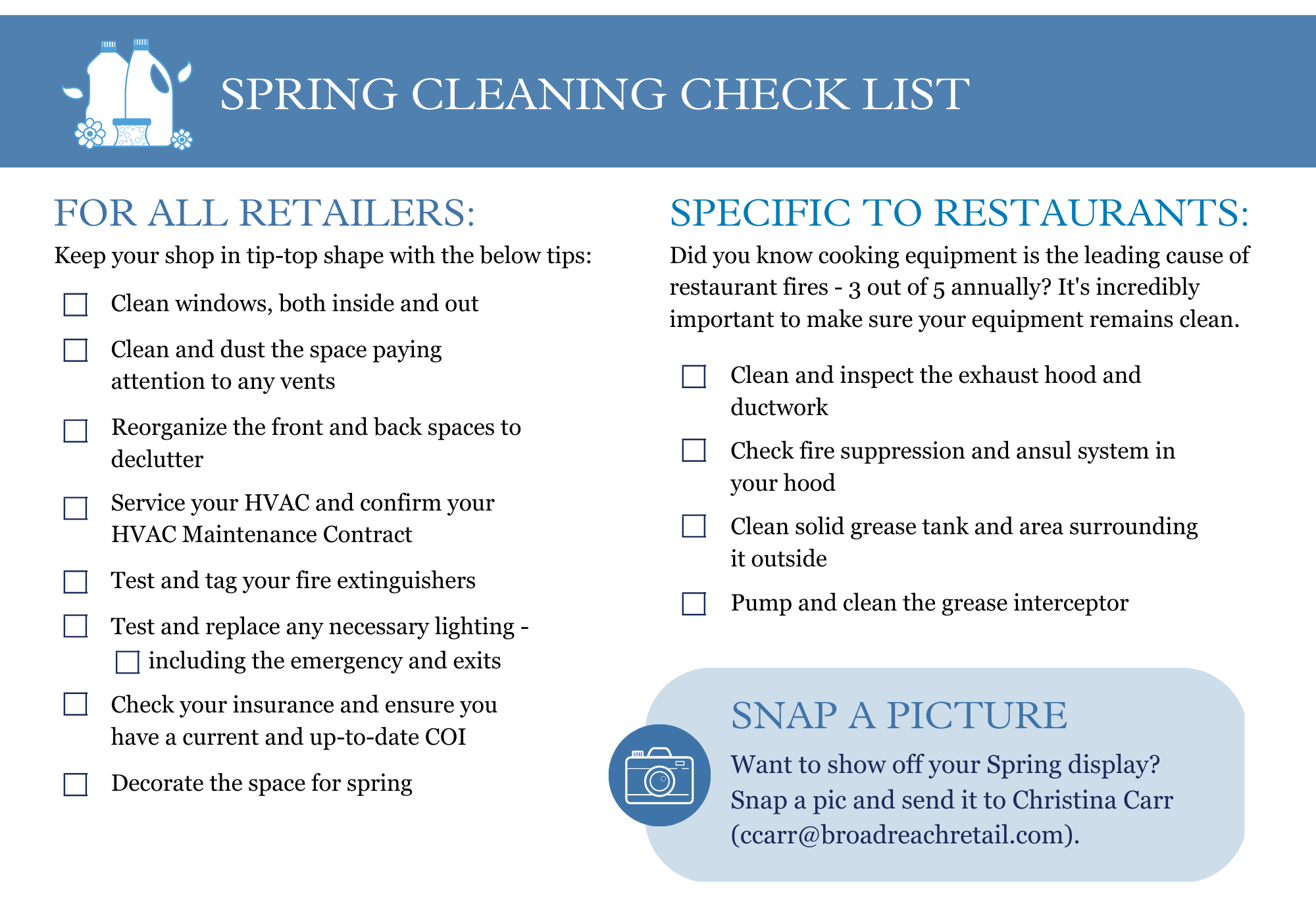 If you have any questions regarding property management, please contact Lynsey Johnson.