Tips for Tenants: Holiday Edition 2021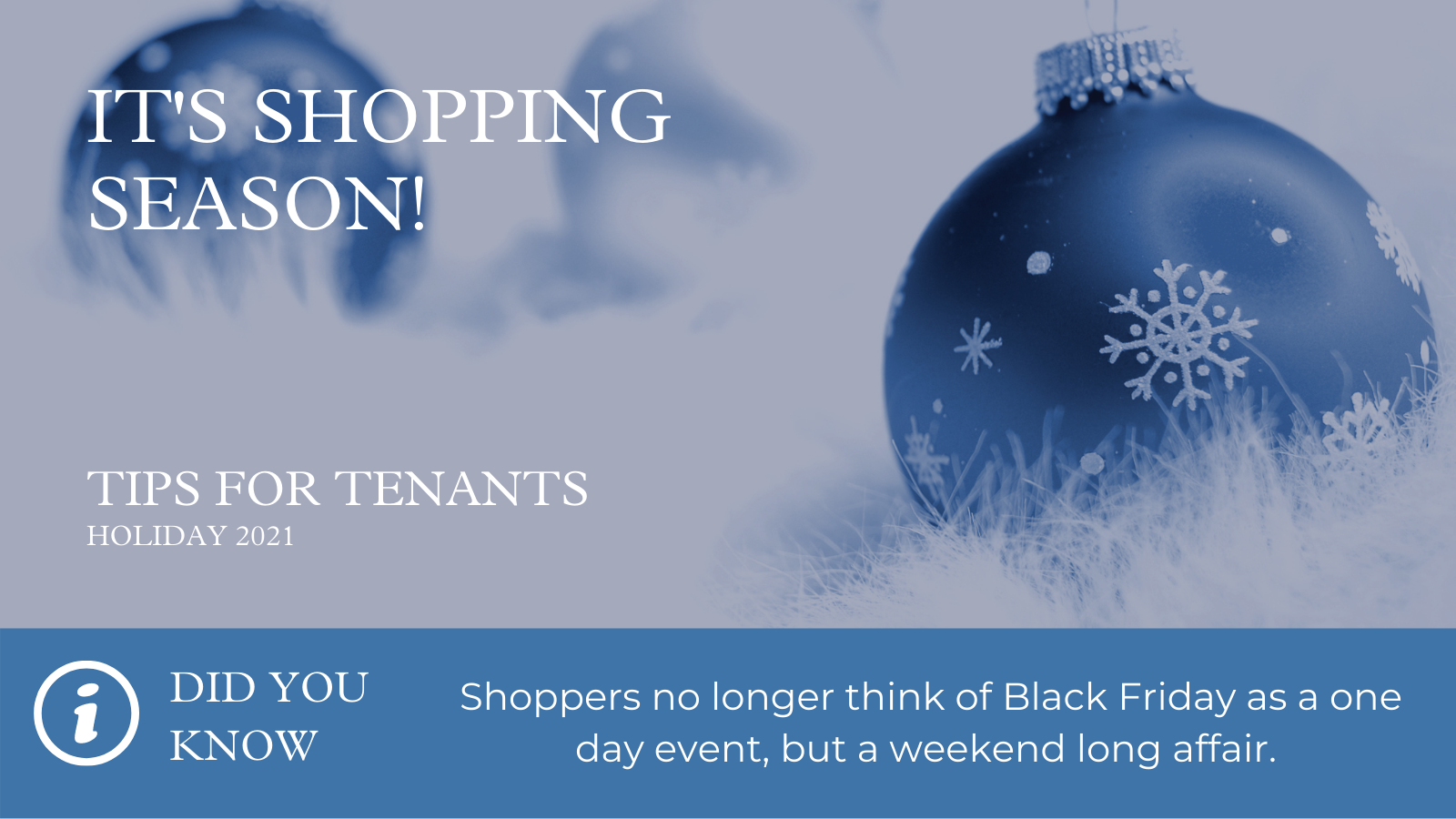 It's Shopping Season!
The end of the year is rapidly approaching, and with the end of the year comes the season of shopping. Make sure you're prepared for the colder weather and shopping traffic with this helpful edition of tips for tenants. Keep reading for more details.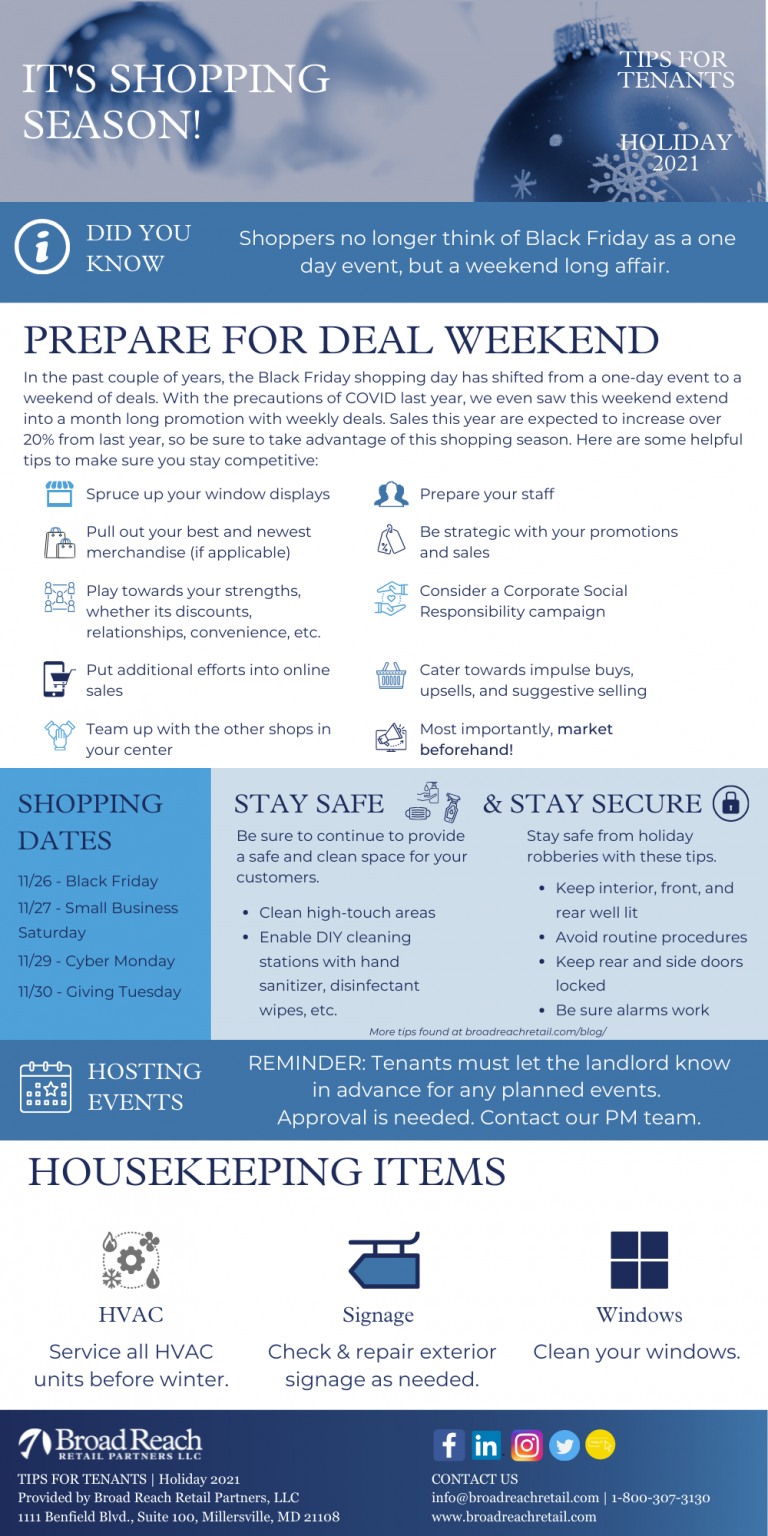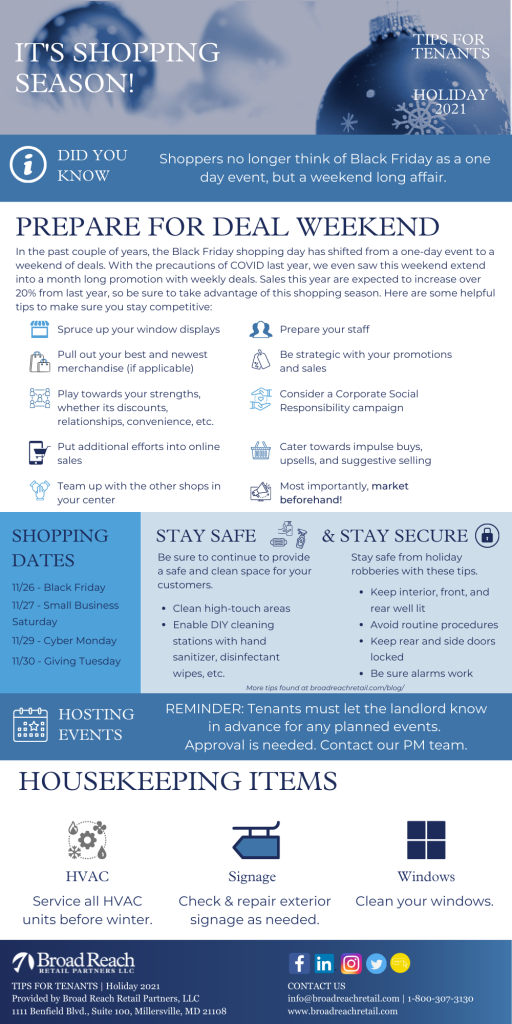 Prepare for Shopping Season
In the past couple of years, the Black Friday shopping day has shifted from a one-day event to a weekend of deals. With the precautions of COVID last year, we even saw this weekend extend into a month long promotion with weekly deals. Sales this year are expected to increase over 20% from last year, so be sure to take advantage of this shopping season. Here are some helpful tips to make sure you stay competitive:
Spruce up your window displays
Take a moment to update your displays to reflect the season and with the holidays, it's a great way to draw more attention to your store. If you'd prefer not to decorate for the holidays, try showcasing some of your deals and promotions.
Pull out your best and newest merchandise (if applicable)
Similar to sprucing up your windows, new merchandise will help catch visitors attention. Pull these items towards the front of your store to highlight them.
Play towards your strengths
Don't try to directly compete with big box stores sales if you can't. Really take time to access your ability and how you can best approach sales and promotions. Your strengths could be convenience, customer service, exclusive offerings, etc. For example, maybe you have an incredible relationship with your customers. Use this relationship for your own benefit by sending them an exclusive shopping hour in the morning before the store officially opens. This gives them first pick to new merchandise.
Don't forget about online sales
Online efforts have grown astronomically due to COVID. Now more than ever, people are looking for the convenience of shopping online, curbside pickup, etc. Is there a way that your store can optimize on these opportunities? Is your site prepared and able to handle additional traffic?
Team up with other stores
At Broad Reach, we hope to build a community feel at each center. Use this towards your benefit. Connect with other stores in your shopping center to see if you can cross promote. It's a great and easy way to expand your audience.
Prepare your staff
If you're expecting a large increase in traffic, make sure all your staff members are fully prepared and trained. Each employee should feel comfortable and confident when dealing with more customers.
Be strategic with promotions and sales
If you cannot compete with box store discounts, try to be strategic with what you're promoting (if anything). Instead of discounting one item, can you bundle a few that will increase profit margins? Are there items you'd like to unload? Provide a big discount on these. Could you provide a free item with every purchase? For example, a free tote (item) or a free makeover (service). Get creative!
Consider a corporate social responsibility campaign
Many large and popular brands have become famous for their CSR efforts (like Toms Shoes for example). For a more unique approach to Black Friday sales, layer on a social campaign. Donate a portion of your Black Friday sales to a charity or non-profit in your community. Are there any other hooks you could use?
Cater towards impulse buys and suggestive selling
There's a reason retail stores use stanchions to wrap customers through a line. It's to give these customers the opportunity to find other items they don't necessarily need to buy, but want to. The impulse buy. Create and use these opportunities to increase sales.
Lastly and most importantly, market beforehand!
You could have the best deals in the world, but it wouldn't make a difference if no one hears about it. Make sure to market to your audience beforehand. Use all channels that you have: email blasts, social media, create events on Facebook or Eventbrite, direct mailers, and even simply your window displays. Get creative with your messaging. You don't necessarily need to continually repeat that you're having a sale. For example, if you're a boutique, showcase new items with a gentle reminder that it will be available during the Black Friday weekend.
Most importantly, start marketing now!
---
Stay Safe & Secure
At Broad Reach, the safety of our tenants, visitors, communities, and all stakeholders is a top priority. Make sure that you're being safe this holiday season by following these tips: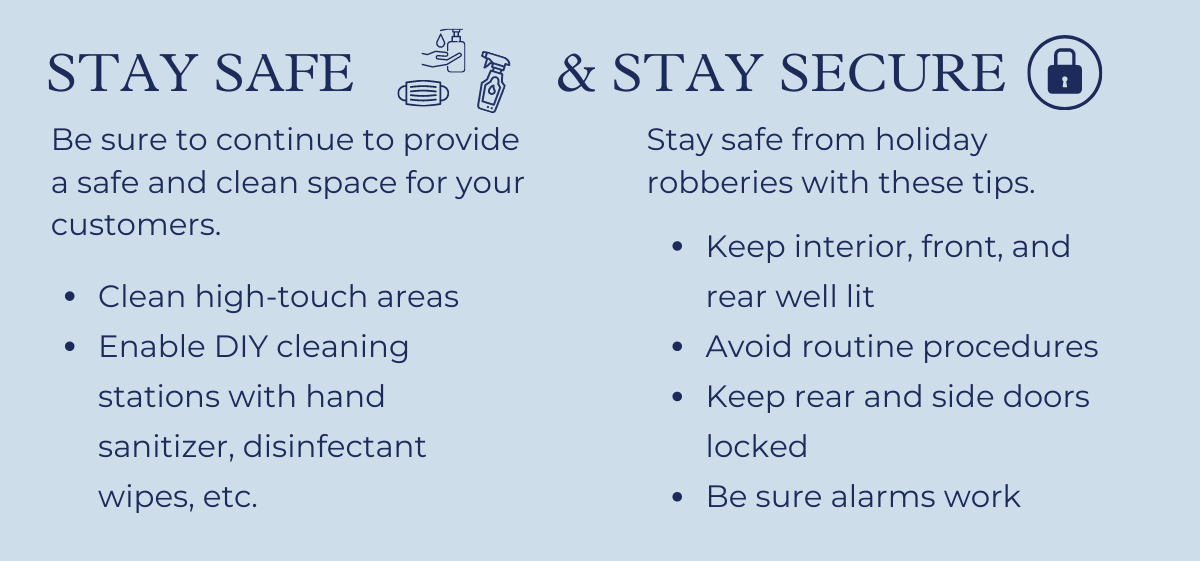 Cleaning Tips
Between COVID and the flu, it's very important to make sure you're still providing a clean and safe environment for your employees and store visitors. Here are a few quick tips:
Make sure all employees are properly trained on cleaning procedures and have all the resources they need (i.e. Clorox wipes, gloves, etc.)
Frequently clean high-touch areas around the store such as credit card machines and door handles
Enable DIY cleaning stations with hand sanitizer, disinfectant wipes, etc. for your guests
Security Tips
During the holidays, past years have seen about a 20% increase in robberies. Make sure you and your employees stay safe. Here are some good tips:
Keep your interior, rear, and sides of your building well lit – let our property management team know if there is a current issue
Avoid all routine procedures – for example, change the time you go to the bank so that this behavior cannot be observed
Keep rear and side doors locked
Double check to make sure your alarms work
Consider installing security cameras
Take precautions to avoid overcrowding in your store
Train all employees on safety and security measures
Most importantly, stay alert and aware
---
Holiday Housekeeping Items
Lastly, let's review a few important housekeeping items for the colder weather months.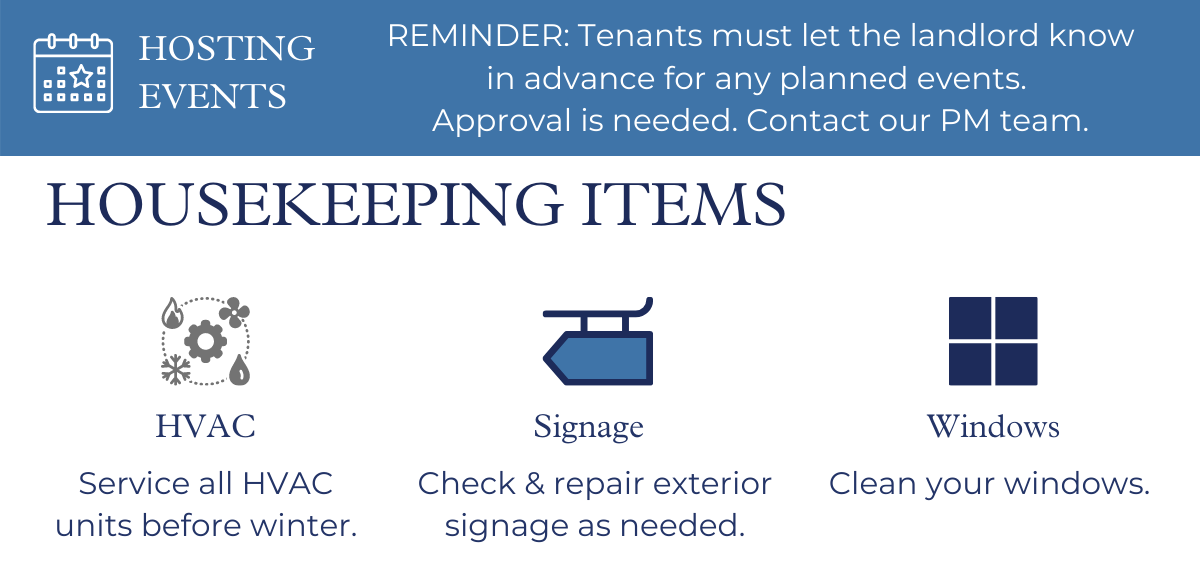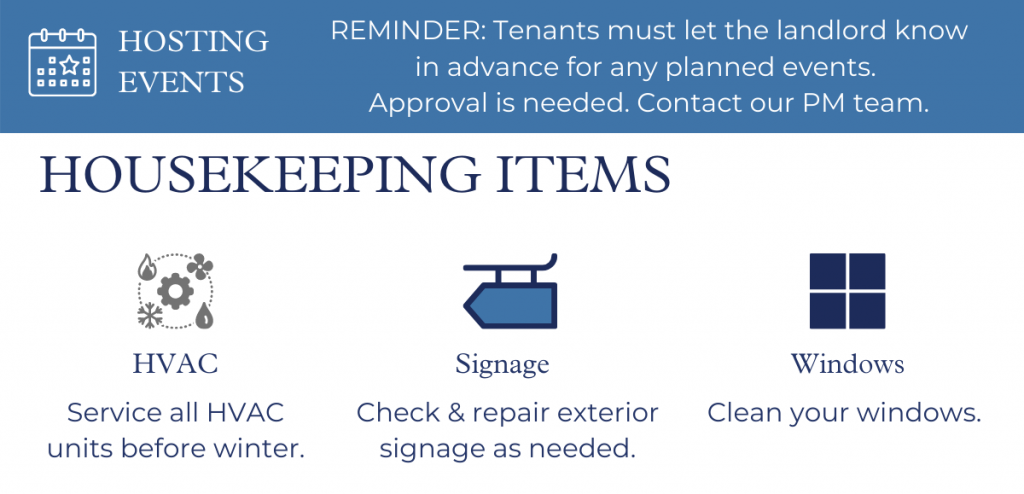 Hosting an event?
For all events that you are hosting in your location, please be sure to reach out and receive approval from Lisa (lhaney@broadreachretail.com) on our Property Management team. This will be the new process moving forward.
Once your event is approved, our team can then provide some light support by announcing the event on our Broad Reach social channels.
Routine maintenance
As a reminder, please be sure to conduct a few routine maintenance items to help keep your shop in tip-top shape for the winter. These includes:
Service all HVAC units before winter to avoid any equipment problems. Please send a copy of your contract to Broad Reach annually.

Please remember not to turn off the heat when you are closed, or the sprinkler and other pipes may freeze

Check and repair exterior signage as needed

Ensure your interior lights, emergency and exit lights, fire extinguishers and other similar items are being maintained

Clean your windows –

Each tenant is responsible for keeping the windows, doors, and related storefront clean at all times.
Download the full Tips for Tenants: Holiday Edition here to share with your team.