Tips for Tenants: Summer 2021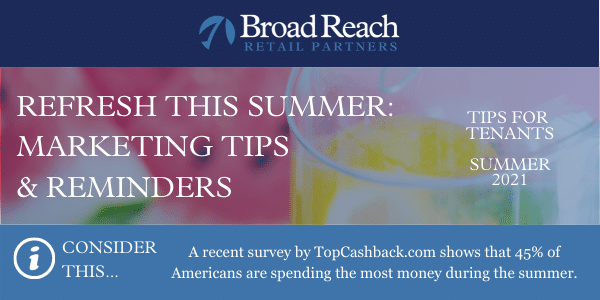 Refresh this summer with these marketing tips and "housekeeping" reminders!
Summer is quickly approaching, so it's time to refocus, restore and refresh your store, your marketing, and your operations!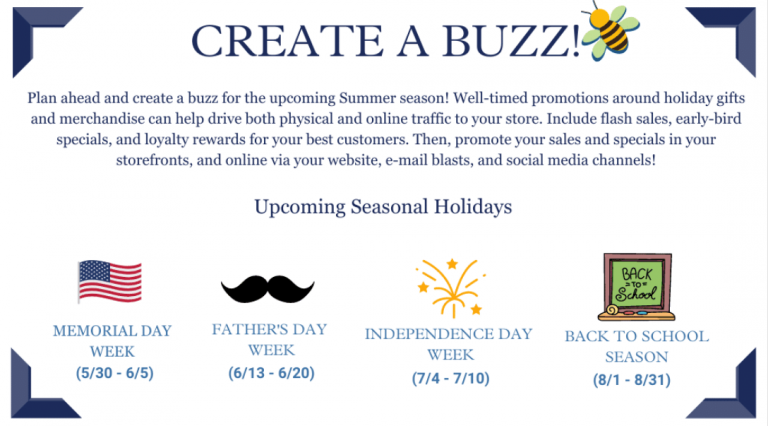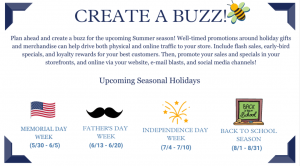 As always, start by creating a buzz this summer with well-timed promotions around holiday gifts and merchandise to help drive both physical and online traffic to your store. Upcoming seasonal holidays include Memorial Day, Father's Day, Independence Day, and the Back-to-School season.
---
Summer is the perfect time to refresh your marketing, test new ideas, and make the most of summer tourism! In fact, a recent survey conducted by TopCashback.com shows that 45% of Americans are spending the most money during the summer. Here are some tips to help you make the most of additional tourism spending:
Update your social media profiles including your profile and cover photos, and hours, if applicable. And don't forget to share new products and your summer specials.

Consider adding Instagram and Twitter profiles to your social media mix. Tik Tok is all the rage these days too!

Have you claimed your Yelp and Google pages? When's the last time you checked and responded to your reviews or updated those profiles?

Look for opportunities to team up on cross-promotions both within your shopping center and with retailers in the surrounding area.

If you haven't already, consider joining your local chamber and keep them updated on recent news, events, and perhaps offer a discount or promotion to other chamber members.

Make the most of your real estate – update your window displays with a summer theme, use chalk or other signage on the sidewalk or walkway right outside your door to promote a sale or new summer items.

Hold a contest or giveaway either in-store and/or on Facebook Live!

Launch a loyalty program this summer – from now until Labor Day, invite customers to sign up for a program that rewards them for returning.
---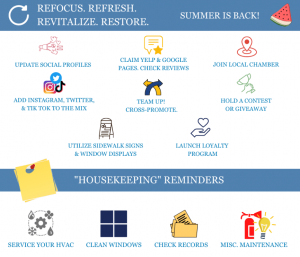 In addition to your summer marketing refresh, here are some friendly "housekeeping" reminders from our Property Management Team:
Please clean your windows regularly. Each tenant is responsible for keeping the windows, doors, and related storefront clean at all times.

Ensure your interior lights, emergency and exit lights, fire extinguishers and other similar items are being maintained. Broad Reach does not repair interior devices or lighting or test interior tenant fire extinguishers.

Please do not place trash on the ground outside anywhere, including pallets.

Don't forget to have your HVAC system checked and serviced to ensure it is in good working order at all times, and please send a copy of your contract to Broad Reach annually.

Please check your records and submit a current copy of your Certificate of Insurance to our

If you have a dedicated sprinkler system, fire panel, and related backflow devices, please ensure those systems are tested at least once annually. Please ensure any sprinkler/fire alarm systems monitored by you are in good working order. This only applies to tenants with dedicated systems. If you are not sure, please contact our Property Management Team.