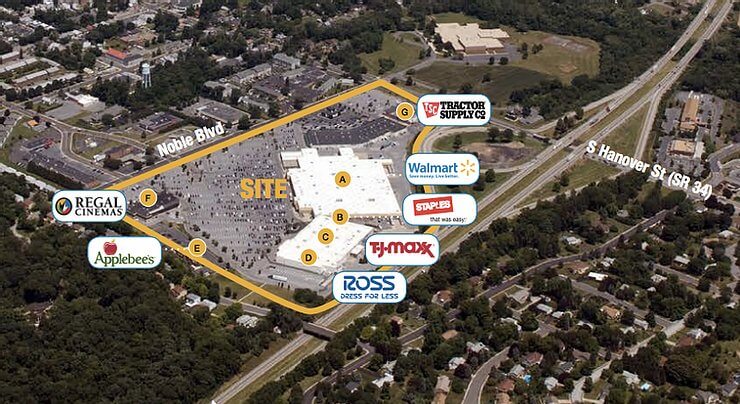 A joint venture partnership between Pratt Street Capital LLC and Broad Reach Retail Partners LLC acquires a shopping center known as Carlisle Commons Shopping Center located in Carlisle, Pennsylvania. The center is anchored by a super Wal-Mart, TJX, Staples, Regal Theater and Tractor Supply. The 387,383 square foot center was 96% occupied at the time of the acquisition. This represents the second joint venture acquisition by Pratt Street Capital LLC and Broad Reach Retail Partners, LLC in the last 6 months.
"The Carlisle Commons has an extremely productive tenant mix and is located at an outstanding location just off of Interstate 81" said David Reischer, Managing Member of Pratt Street Capital LLC. Nate Tower, founder of Broad Reach Retail Partners LLC adds, "Carlisle Commons was a great acquisition and we are looking forward to enhancing the center through hand- on management and leasing".
About Pratt Street Capital LLC
Pratt Street Capital is a privately held real estate investment company that has specialized in direct or third-party debt, equity, or joint ventures for outside investors and developers since 2006. The firm has over 2 million square feet of retail and industrial projects under management and has successfully participated, invested, and advised on over $250 million of real estate transactions. In his capacity as CIO of Pratt Street Capital Real Estate Fund, David is involved with the sourcing, acquisition, funding, and management of prime commercial properties within the fund's investment purview. He manages investor relations for the fund and the proprietary relationship networks of the firm.
About Broad Reach Retail Partners
Broad Reach Retail Partners (BRRP) is a privately held, fully integrated owner and operator of shopping centers located geographically throughout the Southeast and Midwestern United States. The company maximizes the full potential of underutilized shopping centers through focused leasing, redevelopment and creative management. The company's mission is to create value for our partners, properties and people. BRRP is actively seeking growth though selective acquisitions, strategic leasing and the addition of the best of the best team members.